Undertaker Riddle [葬儀屋リドル] is a manga by Akai Higasa first published in 2009.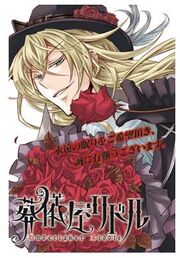 Welcome to the Undertaker Riddle Wiki
Edit
Hayato Sakura, a normal high-school student except one thing: ghosts are attracted to him. One day, someone saved him from all the ghosts he had attracted. His so-called hero introduced himself as Undertaker Riddle who sends spirits to peace. Sakura then asked him a favor if he could help him get rid of the ghosts, and in exchange he'd do anything. Undertaker Riddle then offered to contract Sakura to work for him as an Undertaker too. But in doing so Sakura would have to give Riddle half of his soul, will he go through with the contract?
Latest activity
Edit
Community content is available under
CC-BY-SA
unless otherwise noted.